Yoga At The Market with Brooke Garbison of Studio 4:8 Yoga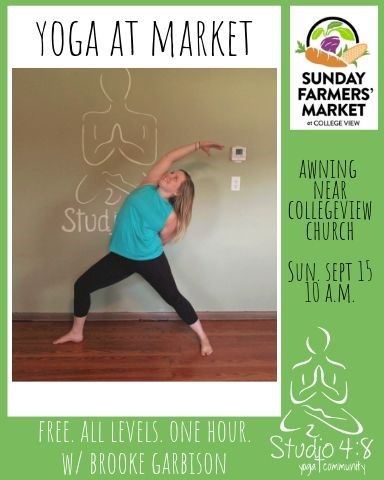 This is a FREE event.
Join her near the awning on the west side of College View Church.
Please bring your own mat.
Brooke Garbison has been practicing yoga for 5 years and earned her RYT 200hr certification in May 2018 at Studio 4:8 School of Yoga. Since completing her training, she has been teaching weekly offerings at Studio 4:8 Yoga. Studio 4:8 Yoga is the neighborhood yoga studio located across the street on 48th and Meredith in College View. Her style of teaching focuses heavily on breath guiding movement, alignment, and cultivating strong, confident, and sustainable bodies. Brooke enjoys going to the Sunday Farmer's Market because it's THE place to buy local produce, baked goods, gifts, learn about local agriculture and sustainability, and meet new friends.