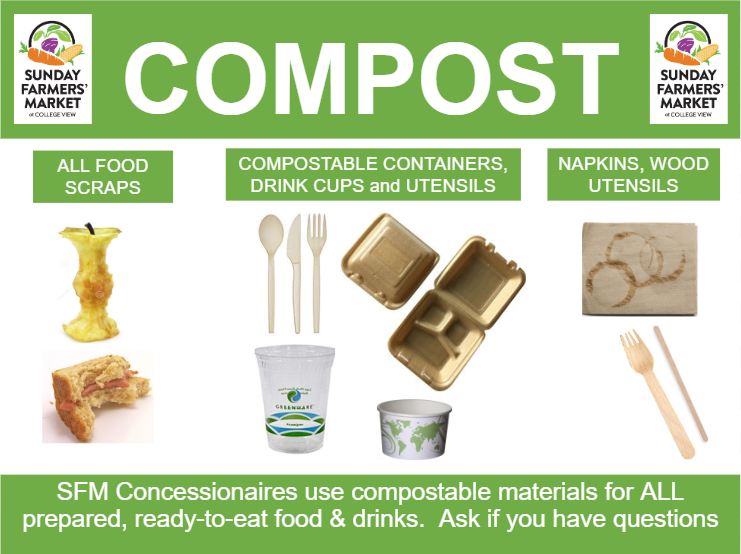 As many of you know the Sunday Farmers' Market is a green market. As such, we took a big step this season implementing some changes around the waste produced at the market as we are striving to work towards becoming a zero waste market! 
The first part of this change is having all our concessionaires (vendors who sell food to be consumed at the market) serve their food with compostable containers, cutlery, cups, bowls, straws etc.. This was a challenge for some of our vendors and we applaud the steps they have taken to make this possible. 
The second part of this change is providing onsite compost collection. For this we have partnered with Big Red Worms- one of our vendors who provides community vermiculture composting services. They collect our compostable waste every week and feed it to their worms- how cool is that! To find out more about them go to their website- https://bigredworms.com/
In order to be successful, we need your help!  You may have noticed some new signage at the market. So while you are at the market please take a look at your waste and confirm if its compostable. There are some things that are super obvious like napkins, paper plates, food waste and clearly labeled cups. Did you know "number 7 PLA" plastics are compostable too?! Go ahead and throw those right into the bins labeled COMPOST.  
However, there are some things that are a little tricky. For example The Mill cups are compostable, but The Mill cup lids are not compostable. So, throw The Mill cup lids and other non-compostable plastics, plastic bags, bottles, cans etc… in the bins labeled LANDFILL. 
Thank you for being part of our community and helping us make this difference!