Mystic Rhoads Productions*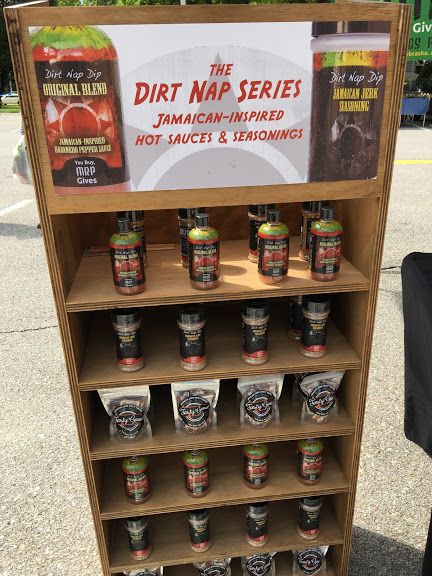 MRP is a 501(c)(3) nonprofit charitable organization.  Their mission is to use the power of their products to build momentum for positive community change and their vision statement is empowered communities support great deeds.  Focus areas for community programs include education, healthy lifestyles, and community service.  The organization was started by two U.S. Peace Corps Volunteers serving in Jamaica who continued their community efforts upon returning home.  More information at mysticrhoads.org.
Their products include Jamaican-inspired hot sauces and seasonings.  The food products are made in small, hand-crafted batches using locally sourced ingredients as much as possible.  Natural ingredients contain no preservatives, artificial chemicals or corn syrup.  
Mystic Rhoads Productions also makes and sells sets of an original game called baldorf. The game is youth-focused, and they use it as an opportunity to encourage kids to be active, healthy, outdoors and away from screens. They have a new gaming app for baldorf, you can now play  on your phone or computer.  Links to the app download and info on how the app came to be can be found here: http://mysticrhoads.org/baldorf/baldorf-gaming-app/. Proceeds from all product sales support charitable causes.
Dirt Nap Dip was chosen a the 2019 best local product by Grow Nebraska.
Direct Ordering Information
https://store.mysticrhoads.org/
Offering: Delivery, Mail (shipment)
Accepting: Credit Card, Cash, Check
Contact Adam Rhoads for details.