Nebraska Mushroom LLC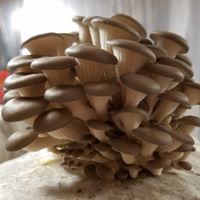 Nebraska Mushroom LLC is a locally owned and operated family farm based out of Grand Island, Nebraska. They specialize in cultivation of gourmet and medicinal mushrooms.
Available products include: Blue Oyster, Brown Beech, Chestnut, Coral Tooth, Dried Oyster, Dried Shiitake, Elm Oyster, Enoki, Gold Oyster, Grey Oyster, King Oyster, Lion's Mane, Maitake , Nameko, Pearl Oyster, Phoenix Oyster, Pink Oyster, Reishi, Shiitake Mushrooms and Powder, Mushroom Bouillion, Broth, Cultures, Grain Spawn, Infused Salt, Wood Spawn, Mycelium Paper Products and Ready To Fruit Mushroom Grow Bags. 
Ashley and William Gordon I ash@nebraskamushroom.com | www.nebraskamushroom.com
Nebraska Mushroom LLC Facebook Page