Weekly, the Nebraska Master Gardener Program has a prominent spot at our market.  Volunteers are available to educate and answer horticulture questions.  Have a gardening question?  Stop by the booth and say hello!
The Nebraska Master Gardener program is a horticulture related volunteer training program based in many counties throughout Nebraska.  Part of UNL Extension since 1976, Master Gardener volunteers are trained by UNL Extension faculty and staff. They contribute time as volunteers working through their local Extension office to provide horticulture-related information to the community. More specifically, they provide education about sustainable horticultural practices. Participants are required to complete 40 hours of training and 40 hours of volunteer service during the initial year of their involvement in the program. Master Gardener volunteers retain their certification through annual training and volunteering.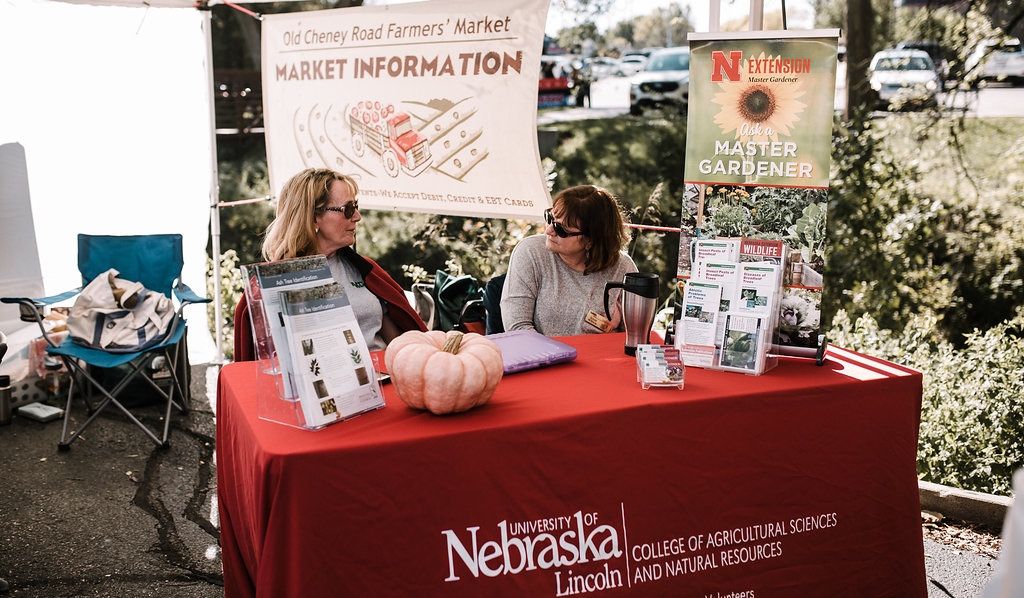 Master Gardeners: Weekly Topics
April 28           
Winter Leftovers: Late cold may bring late blooms & damage, extra garden prep.
May 5  
Bright Lights: Year of Coral New varieties of annuals (fungus-free) and orange veggies.
May 12           
Contain Yourself: Make one for Mom: herbs, perennials & houseplants.
May 19            
B is for Buzz: Plant to attract pollinators of all kinds.
May 26           
Backyard Sanctuary: Unplug & make your own quiet space.
June 2             
Go Wild in Wildflower Week Plant your own native bloomers. Activities in NE.
June 9            
Moonlighting Planting: Moon phases white night gardens.
June 16        
The Under-Story: Composting, mulching with groundcovers.
June 23        
Bored with Ash Borers? Replacement Options and Treatment Questions. 
June 30               
Celebrate USA Heirlooms: A nod to past standout tomatoes, peppers.
July 7            
Sedges for Edges: Dozens of varieties for corners and curves.
July 14            
Bug Off Pests: Pests that need midsummer attention.
July 21         
Bird is the Word: Plants that birds & backyards love.
July 28
Eat Your Veggies: Garden produce, problems & solutions.
August 4
Against the Wind: Wind resistant grasses, shrubs & trees.
August 11
Woodland Gardens: Shady solutions for small spaces.
August 18
Going Rogue: Invasive Plants Love 'em, they can't get rid of 'em.
August 25
Succulent Success: Minimal maintenance, maximum impact.
September 1
Layer It Up: Landscaping from the bottom up -- perennial, shrubs and trees.
September 8
Turf's Up: New grass varieties, reseeding, aerating.
Sept 15
Double Duty: Shrubs Blooming, berries. foliage, fragrance.
September 22
Seasonal Front: Porches Fall & winter options: evergreens, cabbage, gourds.
September 29
Trees in the Garden: Right spot planting, landscape favorites.
October 6
6 Happy Houseplants: Best choices for greenery thriving indoors.
October 13
Blooming Bulbs: When and how to plant bulbs now for spring color.
October 20
Fall Finishing Touches: Cleaning up your yard, maintenance, tool care.
October 27
Bats, A Friendly Foe: How the flying creatures help gardeners.