It is important that all community members have access to fresh local foods that are affordable. By accepting SNAP benefits along with Senior Farmers Market Coupons and Double Up Food Bucks, Sunday Farmers' Market is increasing accessibility to local fresh foods. Customers wishing to shop with their SNAP benefits can simply stop by the information booth and request the amount they'd like to spend and receive tokens as a market currency to spend with vendors. To learn more about SNAP visit http://www.fns.usda.gov/snap/.
SNAP! and Double Up Food Bucks
Up to $20 EXTRA Each Week!!
The SNAP! Double Up Food Bucks Program allows customers with SNAP/EBT (food stamp cards) to get up to $20 in free Double Up Food Bucks Coupons to spend on fresh fruits and vegetables at Sunday Farmers' Market, including our Holiday Harvest Farmers Markets.
When SNAP cards are processed at the Market, we exchange tokens that can be used to purchase fruits, vegetables, eggs, meats, cheese, breads, honey, jams and sauces, and edible and fruit-bearing plants and seeds. The tokens can be spent just like at the grocery store, only your purchases go directly to a local farmer!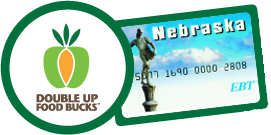 The Double Up Food Bucks program doubles the value of SNAP dollars spent on fresh fruits, vegetables, and herbs. Double Up Food Bucks is part of a national initiative to help low-income families choose healthy, fresh foods. Have questions? Visit the FAQ below
How It Works
Go to the information booth at the market.
Swipe your SNAP card for the amount you would like deducted from your account.
Double your buying power. Up to $20 in SNAP purchases will be matched with with up to $20 in Double Up Food Bucks coupons (for purchase of fruits and vegetables), increasing the value of your swipe from $20 to $40 total.