Two Gals on a Farm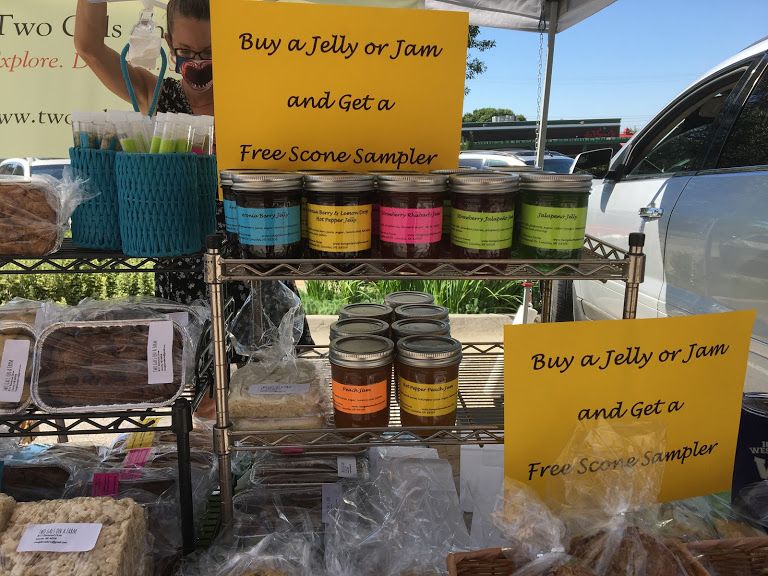 Two Gals on a Farm started  when Diana Vech and Margaret Dentlinger met at the Growing Farmers class given by Community Crops. The farm plot is located at the Community Crops Prairie Pines training farm for beginning growers, and the Two Gals also use garden beds at their homes. They grow produce using natural growing practices, and continue to increase soil biodiversity and health by using crop rotations, planting cover crops, and planting crops that attract beneficial insects.
Seasonal produce offerings include radishes, lettuce, garlic, cucumbers, tomatoes, eggplant, a variety of hot and sweet peppers, and onions. Two Gals likes to try different varieties and fun produce so stop by to see what they have each week.
Sweet and Thai basil is also available during the summer and early fall. Other herbs can be special ordered and picked up at the Sunday market including chives, lemon verbena, tarragon, and sage. Transplants are available in the spring and fall including herbs, vegetables, and berry transplants.
Two Gals has a broad line of jams and jellies. The currently eight varieties include their signature Aronia Berry Jelly and newly added Elderberry Jelly. Herbal salts are available to add flavor to just about anything you use salt on. Baked goods include traditional cookies, such as rice cereal treats, chocolate chip, and oatmeal raisin. And, sweet breads are a great treat for your Sunday brunch, including banana, aronia berry, cinnamon swirl, and lemon.

Diana Vech and Margaret Dentlinger I Two Gals on a Farm Facebook Page
Direct Ordering Info:
Order at  Two Gals on a Farm Facebook Page
Accepting: Cash/Check, Debit/Credit
Offering: Pick-up, 2 pick up locations in east and west Lincoln and Pick-up at the Sunday Market